TD Beach to Beacon 10K Needs Volunteers for Aug. 4 and During Race Week
New streamlined sign up system makes it easy to choose from range of volunteer jobs available for iconic summer road race on Maine coast
CAPE ELIZABETH, Maine (June 18, 2018) – The TD Beach to Beacon 10K Road Race is looking for volunteers in several key areas at this year's event on Saturday, Aug. 4 in Cape Elizabeth and during race week.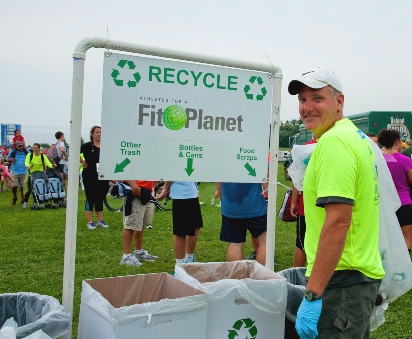 Positions are most needed in the following areas:
parking and shuttle bus program
recycling and composting
the Kid's Fun Run on Friday evening (Aug. 3)
Medical Tent on race morning
New and returning volunteers can sign up at b2bdevelopment.wpengine.com/volunteer. A new streamlined sign up system makes it easier to see the jobs available and what areas are filling fast. There's also a new '+1' feature that enables two volunteers to sign up together.
Perks for volunteers this year include a coveted tech running shirt from Nike and a special outdoor party at Fort Williams during race week just for volunteers, featuring food, music and prizes.
"This race wouldn't be what it is without our volunteers," said Volunteer Coordinator Maya Cohen. "Our new system this year makes it a breeze to view and select an available position of your choice. We're hoping to attract new volunteers and also make sure our past volunteers get signed up so they don't miss out. Volunteering at the TD Beach to Beacon is fun and rewarding all the way around."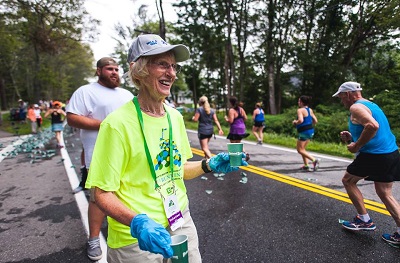 Volunteers are needed to assist with recycling and composting and be part of the race's award-winning sustainability efforts. In 2017, the TD Beach to Beacon became the first major U.S. road race to earn top-level Evergreen Certification from the Council for Responsible Sport for its comprehensive recycling program and success in reducing carbon emissions.
"This program gets more challenging but more vital each year," Cohen said. "If you want to fight climate change in your own community, then spending a few hours assisting in this program is a fantastic option."
Help is also needed in the shuttle bus program, which transports runners from and to satellite lots at the Hannaford corporate parking lot in Scarborough, SMCC in South Portland and Cape Elizabeth High School, as well as in the parking areas for runners near the start line.
"Parking and the shuttle buses is all about efficiency and the overall effort to reducing our carbon footprint," Cohen said. "Volunteers in these areas are making a huge difference."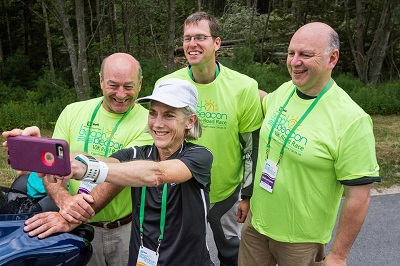 The Kids Fun Run on Friday evening also needs volunteers and the Medical Tent on race day where both licensed and non-licensed medical professionals are welcome. Spots for volunteers remain in many other areas as well, she said.
The TD Beach to Beacon 10K needs a total of about 800 volunteers to ensure a smooth operation for the 6,500+ recreational runners and world-class athletes alike who will wind their way from Route 77 near Crescent Beach State Park to Fort Williams Park and the finish line near the Portland Head Light, the most photographed lighthouse in the world.
Groups interested in volunteering together should contact Maya Cohen at cohemm@gmail.com. Minors (under age 18) cannot register online and need to download an application from the website. Please call (207) 838-8816 or email cohemm@gmail.com with questions.
Each year, the TD Beach to Beacon honors a longtime volunteer with a special annual award. The 2017 Volunteer of the Year award went to Francisco Rodriguez of Bayonne, N.J., who comes to Maine each year to volunteer at multiple positions over race weekend (even on race morning) before jumping into the field.

The 2018 race beneficiary is WinterKids, a nonprofit organization that helps children develop healthy lifelong habits through education and fun, outdoor winter activity. WinterKids (www.winterkids.org) will receive a $30,000 donation from the TD Charitable Foundation, the charitable giving arm of TD Bank, America's Most Convenient Bank®, and also benefit from fundraising and publicity connected to the race.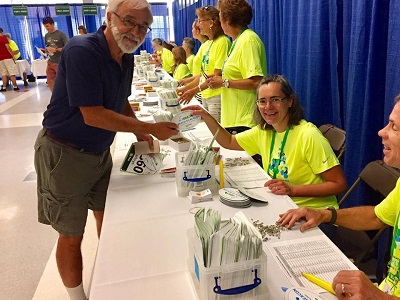 The TD Beach to Beacon celebrates health, fitness and giving back. In 2017, a record 6,887 runners from 18 countries, 43 states and more than 270 Maine cities and towns finished the winding, rolling, often breathtaking 6.2-mile coastal course. Thousands of spectators cheered runners along the route and at the finish. The race debuted in 1998 with 2,408 runners crossing the finish line.
The TD Beach to Beacon 10K was founded in 1998 by Joan Benoit Samuelson, an Olympic gold medalist who grew up in Cape Elizabeth. Today the race attracts a large contingent of world-class from the U.S. and around the world as well as top runners in Maine and New England to compete for more than $90,000 in prize money.
The TD Beach to Beacon is directed by Dave McGillivray of DMSE Sports, who also serves as race director of the B.A.A. Boston Marathon. For additional information about the race, visit b2bdevelopment.wpengine.com, and find the TD Beach to Beacon on Facebook, Twitter and Instagram.
About The TD Charitable Foundation
The TD Charitable Foundation is the charitable giving arm of TD Bank, America's Most Convenient Bank ®, one of the 10 largest commercial banking organizations in the United States. Since its inception in 2002, the Foundation has distributed over $199 million and more than 19,400 grants through donations to local nonprofits from Maine to Florida. More information on the TD Charitable Foundation, including the online grant application, is available at TDBank.com.
About TD Bank, America's Most Convenient Bank ®
   TD Bank, America's Most Convenient Bank, is a member of TD Bank Group and a subsidiary of the Toronto-Dominion Bank of Toronto, Canada, a top 10 financial services company in North America. The Toronto-Dominion Bank trades on the New York and Toronto stock exchanges under the ticker symbol "TD". To learn more, visit www.td.com.TD Bank, America's Most Convenient Bank, is one of the 10 largest banks in the U.S., providing more than 9 million customers with a full range of retail, small business and commercial banking products and services at more than 1,200 convenient locations throughout the Northeast, Mid-Atlantic, Metro D.C., the Carolinas and Florida. In management services through TD Wealth ®, and vehicle financing and dealer commercial services through TD Auto Finance. TD Bank is headquartered in Cherry Hill, N.J. To learn more, visit www.tdbank.com. Find TD Bank on Facebook at www.facebook.com/TDBank and on Twitter at www.twitter.com/TDBank_US.
# # #
Here is more information about the TD Beach to Beacon 10K