21st TD Beach to Beacon 10K on Saturday to Feature Olympian Molly Huddle and Maine Native Ben True Among 6,500+ Runners in Cape Elizabeth, Maine
Iconic American road race, founded by Olympic hero Joan Benoit Samuelson, focusing attention on WinterKids, a nonprofit helping Maine children stay active and healthy during winter
CAPE ELIZABETH, Maine (July 30, 2018) – With the debut of U.S. distance running star Molly Huddle and the return of Maine native and 2016 champion Ben True, the stage is set for the 21st edition of the TD Beach to Beacon 10K on Saturday in Cape Elizabeth, Maine.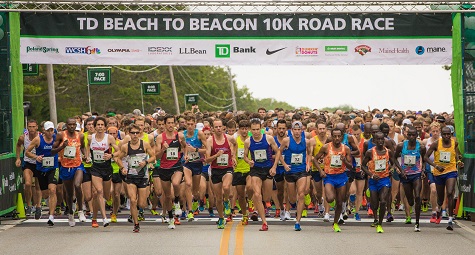 This year's group of world-class athletes – including Olympic gold medal triathlete Gwen Jorgensen, Kenya-based New Zealander Jake Robertson and U.S. Olympians Lopez Lomong and Shadrack Kipchirchir – will be followed by more than 6,500 mostly recreational runners energized by cheering spectators along the scenic TD Beach to Beacon course in this iconic summer road race celebrating health, fitness and giving back.
The 2018 race beneficiary is WinterKids, a nonprofit organization that helps children develop healthy lifelong habits through education and fun, outdoor winter activity. WinterKids (www.winterkids.org) will receive a $30,000 donation from the TD Charitable Foundation, the charitable giving arm of TD Bank, America's Most Convenient Bank®, and also benefit from fundraising and publicity connected to the race.
In addition to TD Bank, the title and lead prize money sponsor, other corporate partners who help make the TD Beach to Beacon possible are Nike, Hannaford, Poland Spring, MaineHealth, IDEXX, Northeast Delta Dental, L.L.Bean, NEWS CENTER Maine, Olympia Sports, ON Semiconductor and Dunkin' Donuts.

"Year in and year out, the TD Beach to Beacon has proven to be a life-changing event for so many people, and we are honored to sponsor it once again," said Larry Wold, President of TD Bank in Maine, who is one of the 111 legacy runners. "We are proud to support this year's beneficiary, WinterKids, and applaud its mission to encourage kids and their families to get outdoors and be active, so they can enjoy our Maine weather year-round."
Maine native and running legend Samuelson, winner of the first Olympic women's marathon in 1984, founded the TD Beach to Beacon to realize her vision of creating a major international road race in her home state. The route follows the same coastal roads that the unassuming Samuelson trained on in Cape Elizabeth. With her reputation, plus top-notch organization and strong community support, the TD Beach to Beach is known and appreciated as a world-class event with small-town charm.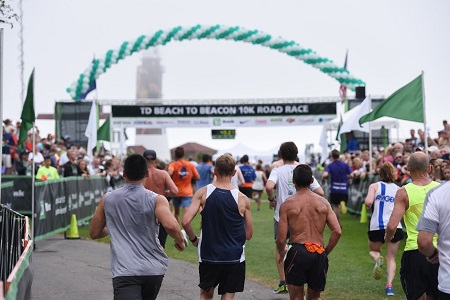 In 2017, a record 6,887 runners from 18 countries, 43 states and more than 270 Maine cities and towns finished the race. Thousands of spectators cheered runners along the route and at the finish. The race debuted in 1998 with 2,408 finishers.
The TD Beach to Beacon begins near the Crescent Beach State Park entrance on Route 77 in Cape Elizabeth and winds along tree-lined roads and past dramatic ocean vistas before ending 6.2 miles later in Fort Williams Park near Portland Head Light, the most photographed lighthouse in America.
Supported by 850 volunteers, the TD Beach to Beacon 10K is directed by Dave McGillivray of DMSE Sports (www.dmsesports.com), who also directs the B.A.A Boston Marathon and is regarded as one of the best in the business.
The elite athletes will compete for more than $90,000 in prize money, with $10,000 awarded to the winners in the men's and women's open races and payouts to the top 10 runners overall, courtesy of title sponsor TD Bank. Also included is a $23,000 purse for American men and women, sponsored by Dunkin' Donuts, split evenly among the top five American men and women with a $5,000 top prize.
Homegrown Hero Ben True Back to Chase Second Title while American Running Superstar Molly Huddle Making Debut in Strong Field
Ben True earned both top payouts – $15,000 in total – in 2016 when he torched the field (28:16) to become the first American to win the race. He fell just short of defending his title last year, finishing a close second (27:56) to Kenyan Stephen Kosgei Kibet, who is not in the 2018 field.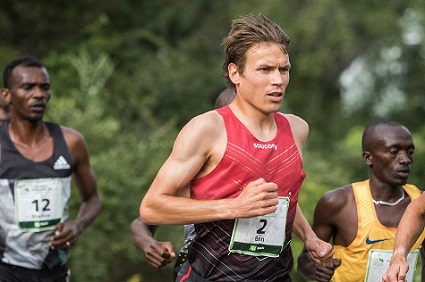 True, 32, a North Yarmouth native and former Greely High School and Dartmouth College All-American, would like nothing better than to regain his place atop the podium. He rarely disappoints on the Cape Elizabeth course. True won the Maine resident title twice, in 2008 and 2009, when he set the course record in that category. He then returned as a professional in 2014 to place 3rdwith his best time, 27:50 – the fastest road 10K by an American in 29 years.
True, who holds the American 5K record (13:20), is in good form. In March, he debuted in the half marathon at the NYC Half and became the first American ever to win the prestigious event. True placed 2nd at the 2018 BAA 5K in April.
Another race favorite is Jake Robertson, 28, a Kenya-based New Zealander who so far in 2018 has wins at the Houston Half Marathon (60:01) against one of the strongest half marathon fields ever assembled on U.S. soil, and at the Crescent City Classic 10K in an eye-opening 27:28. Also, he set his national 10,000m record (27:30.9) while placing 5th at the 2018 Commonwealth Games.
Other contenders include Lopez Lomong, 32, a two-time U.S. Olympian who won the USATF 10,000m title in June; Ethiopian teenager Amdework Walelegn,19, who already this year has wins at the Istanbul Half Marathon (59:50) and the Laredo 10K in Spain (27:37); Stephen Sambu, 30, of Kenya, who finished 4th at the TD Beach to Beacon last year (28:16) and won the 2014 BAA 10K in a career best 27:25; and Tariku Bekele, 30, of Ethiopia, the bronze medalist at 10,000m at the 2012 London Olympics.
The field also includes Shadrack Kipchirchir, 29, a Kenyan-born American who competed in the 10,000m at the 2016 Rio Olympics (27:58.32, 19th), placed ninth at the 2017 World Championships in a PB 27:07.55 and finished just behind Lomong at the USATF 10,000m in June; Callum Hawkins, 26, the Scottish half marathon record holder (60:00) who finished 9th in the marathon at the 2016 Rio Olympics and 4th at the 2017 World Championships marathon, equaling the best ever performance by a British runner; and Shadrack Biwott, 33, another Kenyan-born American who finished 3rd at the 2018 Boston Marathon.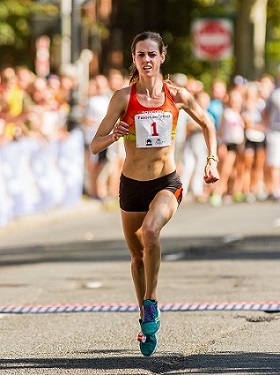 In the women's division, the absence of the dominant Mary Keitany of Kenya, winner of the past two TD Beach to Beacons who lowered the course record with each win, opens the door for Molly Huddle to try to become the first American women ever to win the iconic seaside 10K. (Runners up Shalane Flanagan in 2014 and Libbie Hickman in 2000 have come closest.)
Huddle, 33, a two-time Olympian who has been a U.S. national champion 27 times across various distances on the roads and track, is more than capable. She holds numerous American records, including the 10,000m (30:13.17), set at the 2016 Rio Olympics, breaking Flanagan's mark and finishing sixth. In January, Huddle, who lives and trains in Providence, R.I., set a new American record at the Houston Half Marathon with a 1:07.25, breaking Deena Kastor's 12-year-old mark. She also won the USATF 15K Championship (47:50) in March and the USATF 10,000m in June.
Huddle's career best 10K is 31:21 at the USATF 10K Championship in Boston in 2015, an American record for an all-women's race. She also holds the American 5K and 12K records, placed 3rd at the 2016 NYC Marathon in her debut at that distance, and has won the NYC Half Marathon three times, most recently in 2017.
Huddle will square off against a quartet of talented international runners, including Buze Diriba, 24, of Ethiopia, who is one of the top runners on the circuit in 2018 at a range of distances. She has wins at the NYC Half Marathon in March, the Cherry Blossom 10-Mile in April and, a week later, she retained her title at the BAA 5K in Boston. Diriba placed 5th in a tight finish at the Utica Boilermaker 15K earlier this month. She recorded her personal best 31:37 at the BAA 10K in 2017.
Others expected to contend include Sandrafelis Chebet Tuei, 20, of Kenya, who recorded a scorching 30:57 to win the Valencia 10K in Spain in January; Ababel Yeshaneh, 27, of Ethiopia, who has a PB 30:35.91 on the track and won the 2018 Istanbul Half Marathon (1:06.22); and Pauline Kamulu Kaveke, 23, of Kenya, who has a PB 31:47.13 at 10,000m and won bronze at the 2018 IAAF World Half Marathon Championships (1:06.56);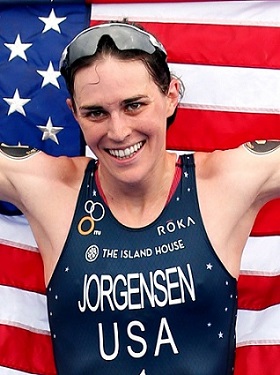 Also, rising American star Emily Sisson, 26, is back this year, following up on her strong showing at the 2016 TD Beach to Beacon, where she was the top American and placed 4th overall (32:21). The 11-time All-American at Providence College recorded the fourth fastest American time ever (1:08.21) while finishing just behind Huddle in a sprint finish at the 2017 NYC Half. Sisson won the 2016 USATF 10K Championship with a personal best 31:47, placed 3rd at the 2017 USATF 10,000m (31:25.64) and still holds the NCAA Indoor 5,000m record (15:12.22).
Another notable American in the field is Olympic gold medal triathlete Gwen Jorgensen, 32, who last fall retired from the triathlon and began her quest to reach the 2020 Olympic marathon. An All-American runner at the University of Wisconsin, she won a 10,000m invite at Stanford (31:55.68) this spring, placed 4th at the USATF Half Marathon Championship (1:10:58) and took 5th  at the USATF 10K Championship at the Peachtree Road Race earlier this month.
Also, former Cheverus High and UConn standout Emily Durgin, 24, the defending Maine Resident champion but no longer eligible in that division, returns in the professional field. The Brighton, Mass., resident, who trains with Team New Balance in Boston, so far this year has a 5th at the USATF Cross Country Championships in Tallahassee and a 6th at the NACAC Cross Country Championships in El Salvador.
(Unofficial) Maine Road Race Champions to be Crowned
The TD Beach to Beacon 10K attracts the state's top road racers who vie in the Maine Resident races each year for the unofficial title as Maine Road Race Champion.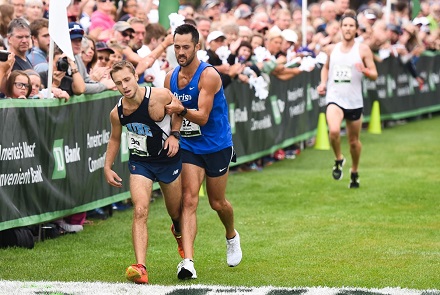 In 2017, a show of sportsmanship within the ranks dominated the headlines. Who can forget the ending to last year's Maine men's race? Nearing the finish line, race leader Jesse Orachwas overcome by heat stroke and fell, only to be helped to his feet by his trailing competitor, Rob Gomez, who held Orach up as they ran together to the finish line. Gomez then provided Orach with a nudge over the line to give him first. His selfless act was among the feel-good stories of the year in road racing.
Both runners are back in the field for 2018. They have since formed a friendship and are teammates as part of the Dirigo running club. Orach, 24, of Gorham, who last year became the first repeat winner in the Maine men's race since Ben True in 2008-09, will seek to become the first-ever three-time champion. Gomez, 35, of Windham, has never won the Maine race (and passed on the chance last year), but has a handful of top 5 finishes. The winner of the Maine Marathon in 2013, he remains one of the state's most prolific and successful road racers.
They will be challenged by fellow Dirigo runner Ben Decker, 22, of Yarmouth, the 2015 champ who ran 30:07 on the track in May (31:31 won the TDB2B in 2017) and just dominated the Clam Festival Classic 4-Miler, and Ryan Smith, 23, of Farmington, who won the L.L. Bean 10K earlier this month and finished behind Orach and just ahead of Decker at the YMCA Fit Fest 5K in June.
On the women's side, two-time champ Michelle Lilienthal, 36, of Portland is dominating on the Maine roads and is again the favorite to re-claim the crown she last won in 2016. She also won in 2014 with a course record 33:39. Other contenders include Sheri Piers, 47, Falmouth, a three-time Maine champ and former course record holder; Erica Jesseman, 29, of Scarborough, a two-time winner; Tracy Guerrette, 36, of Saint Agatha, who finished third in 2017; and Taylor Bickford, 24, of Limington, who placed fifth last year.
Local Support Makes TD Beach to Beacon 10K a Success
The TD Beach to Beacon is overseen by its 60-member, volunteer Organizing Committee, headed by Race President Mike Stone of Portland. Local residents from all walks of life, plus police, fire, medical and municipal officials serve on the committee to plan the event. Maya Cohen of Cape Elizabeth coordinates the 850 volunteers who are central to the success of the race.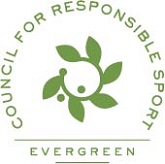 Local residents also open up their homes for the elite athletes as part of a "home-stay" program that is second to none. In addition, the Town of Cape Elizabeth is especially helpful – providing police, fire and emergency services and staff to help ensure the event runs smoothly.
The TD Beach to Beacon also has a long history of commitment to the environment with a focus on recycling, reuse and eco-friendly activities. In 2016, the race achieved Evergreen Certification, becoming the first major road race of its size in North America – and only the sixth event ever worldwide – to earn the distinction from the Council for Responsible Sport, which conducted a rigorous review of the TD Beach to Beacon environmental and social sustainability programs.
For additional information about the race, visit b2bdevelopment.wpengine.com, and follow the race on Facebook, Twitter and Instagram.
About The TD Charitable Foundation
The TD Charitable Foundation is the charitable giving arm of TD Bank, America's Most Convenient Bank ®, one of the 10 largest commercial banking organizations in the United States. Since its inception in 2002, the Foundation has distributed over $199 million and more than 19,400 grants through donations to local nonprofits from Maine to Florida. More information on the TD Charitable Foundation, including the online grant application, is available at TDBank.com.
About TD Bank, America's Most Convenient Bank ®
   TD Bank, America's Most Convenient Bank, is a member of TD Bank Group and a subsidiary of the Toronto-Dominion Bank of Toronto, Canada, a top 10 financial services company in North America. The Toronto-Dominion Bank trades on the New York and Toronto stock exchanges under the ticker symbol "TD". To learn more, visit www.td.com.TD Bank, America's Most Convenient Bank, is one of the 10 largest banks in the U.S., providing more than 9 million customers with a full range of retail, small business and commercial banking products and services at more than 1,200 convenient locations throughout the Northeast, Mid-Atlantic, Metro D.C., the Carolinas and Florida. In management services through TD Wealth ®, and vehicle financing and dealer commercial services through TD Auto Finance. TD Bank is headquartered in Cherry Hill, N.J. To learn more, visit www.tdbank.com. Find TD Bank on Facebook at www.facebook.com/TDBank and on Twitter at www.twitter.com/TDBank_US.
# # #
Elite Athlete Bib List for the 2018 TD Beach to Beacon 10K (updated thru July 29, 2018)
MEN
2    Ben True  USA
3    Shadrack Kipchirchir  USA
4    Jake Robertson   New Zealand
5    Stephen Sambu   Kenya
6    Tariku Bekele   Ethiopia
7    Amdework Walelgen   Ethiopia
10  Callum Hawkins   Great Britain
11  Ross Millington   Great Britain
13  Shadrack Biwott   USA
14  Lopez Lomong   USA
15  Andrew Bumbulough  USA
17  Matt Llano  USA
18  Parker Stinson   USA
19  Trevor Dunbar   USA
20  Luke Puskedra   USA
21  Colin Bennie   USA
22  Mason Ferlic  USA
23  Martin Hehir   USA
24  Dillon Maggard  USA
WOMEN
101 Molly Huddle  USA
102 Sandrafelis Chebet Tuei  Kenya
103 Buze Diriba  Ethiopia
104 Ababel Yeshaneh   Ethiopia
105 Pauline Kamulu Kaveke  Kenya
106 Emily Sisson  USA
109 Laura Rose Donegan   Australia
111 Rochelle Kanuho   USA
113 Alia Gray   USA
114 Emily Durgin   USA
116 Katie Matthews   USA
117 Gwen Jorgensen   USA
118 Ayano Kubo   Japan
119 Sayo Nomura   Japan
120 Rachel Hyland   USA
121 Kaitlin Gregg Goodman   USA
122 Annika Pfitzinger   New Zealand
124 Sydney Devore   USA
125 Katie Kellner   USA
Photo credits:
Molly Huddle & Ben True images courtesy of Kevin Morris
2017 race start image courtesy of Steve Waldstein
Here is more information about the TD Beach to Beacon 10K